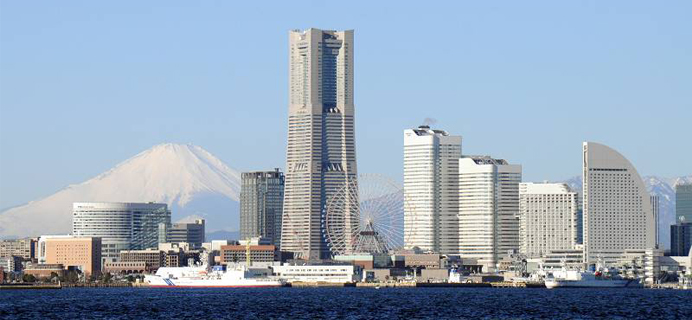 OPIC2016 successfully held.
OPIC2016 was successfully held from 17-20 of May 2016 at Pacifico Yokohama, Japan.
Registered participants are 1028.
Participants from overseas are 328 and came from 30 countries.
The next congress OPIC2016 will be held on April 18(Tue.)-21(Fri.), 2017.
Please view Report on OPIC2016, Photo Library and Participate in the OPIC2016 Attendee Survey.
OPIC2016
OPIC(光とフォトニクスに関する国際会議)は、日本で最大級の光科学技術の国際会議で、2012年から毎年横浜で開催しています。OPIC2016は第5回目の開催で、11の専門国際会議から構成され、参加登録者はプレナリセッションと全会議への出席が可能です。
日時:2016年5月17日(火) – 20日(金)
場所: パシフィコ横浜・会議センターおよび展示会場
トピックス
Welcome Letter from Congress Committees Chairs(Click their figure link)

Welcome Letters from each Conference Chairs(Click their figure link)

XOPT`16
議長,
山内 和人

大阪大学
Joint Session

 2016年5月18日(水. PM.)
Joint Session of LIC & PLD & SLPC <Room 301>
1. Y. Kwon (Powerlase Photonics, UK)
Optimized Design and Performance of Laser Ablation Systems for Paint and Coating Removal for Manufacturing and Maintenance of Vehicles and Airplanes
2. C. Menoni (Colorado State Univ., USA)
High Performance Interference Coatings for Near Infrared High Energy Lasers
3. Z. Liao (Lawrence Livermore National Laboratory, USA)
Modeling of Laser Induced Damage and Usage at National Ignition Facility
4. E. Mottay (Amplitude Systemes, France)
Fiber Delivery of Ultrafast Lasers
5. T. Takahashi, N. Uchiyama (Hamamatsu Photonics, Japan)
The Latest Technology Demand of the Internal Processing Type Laser Dicing Technology
6. D. Barbier (tentative)(Team Photonics, France)
Micro-laser Based Material Processing (tentative)
Joint Session of BISC & OMC <Room 414+415>
1. Adrian Podoleanu (University of Kent, UK)
Direct Real Time En-face Optical Coherence Tomography
2. Donghyun Kim (Yonsei Univ., Republic of Korea)
Nanoscale localization sampling by plasmonic aperture arrays for imaging molecular events
3. Kishan Dholakia (University of St Andrews, UK)
Advanced light shaping for biomedical applications
4. Tomomi Nemoto, Ryosuke Kawakami, Terumasa Hibi, Kohei Otomo, Sari Ipponjima, Kazuaki Sawada, Ayano Tanabe (Hokkaido Univ., Japan)
Improvements and applications in "in vivo" multi-photon microscopy
5. Manabu Sato1, Daisuke Saito1, Kou Shouji1, and Izumi Nishidate2
(1Yamagata Univ., Japan, 2Tokyo University of Agriculture and Technology, Japan)
Full-field optical coherence tomography using ultrathin forward-imaging short multimode fiber
6. Chie Hosokawa1, Kohei Miyauchi1,2, Suguru N. Kudoh2, Takahisa Taguchi3, Keiko Tawa2
(1AIST, Japan, 2Kwansei Gakuin University, Japan, 3NICT, Japan)
Optical trapping of quantum-dot conjugated cell surface molecules of neuronal cell cultured onto a plasmonic chip
Joint session of ALPS & HEDS & XOPT <Room 302>
1. Tetsuya Ishikawa (RIKEN SPring-8 Center)
X-rays as a Subject for Optics Research
2. David M. Fritz (SLAC National Accelerator Laboratory)
LCLS-II: A High Repetition Rate X-ray Laser Facility
3. Ryosuke Kodama (Osaka University)
Exploration of New fields of High Energy Density Science
4. Antonio Lucianetti (HiLASE Centre, Institute of Physics CAS)
HiLASE100: a cryo-cooled 100 J, 10 Hz DPSSL System
5. Seong Ku Lee (GIST)
Current status of PW laser at CoReLS and applications
6. Georg Korn ( Director of ELI Beamlines, Czech Republic)
High-energy Density Science and plasma physics at ELI Beamlines
Plenary Session 2016年5月18日(水. AM.) <501+502>
9:00-9:15 Greetings

Andreas Ostendorf

教授, Ruhr-University

Bochum, Germany

(representing Congress Chairs)

中井 貞雄

大阪大学名誉教授

(representing IAB)

Reinhart Poprawe

Director, Fraunhofer Inst.

for Laser Tech., Germany

(representing IAB)

9:15-10:35 First session

Chair,
伊賀健一

東京工業大学前学長

(Congress chair)

9:15-9:55

菅原 充
QDレーザー株式会社
社長
「虹彩結像レーザーアイ
ウェア: 弱視補助から
スマートグラス」

9:55-10:35

細野 秀雄
東京工業大学
応用セラミックス研究所
教授
2016年日本国際賞受賞者
「透明酸化物における
電子応答機能性の開拓」

10:50-12:10 Second session

Chair,
Chris Barty

CTO, Lawrence Livermore

National Laboratory, USA

(Congress chair)

10:50-11:30

家 正則
国立天文台教授、
次世代超大型望遠鏡
TMT推進室長
「30m望遠鏡プロジェクト」

11:30-12:10

Georg Korn
CSO, Extreme Light
Infrastructure(ELI)
"ELI: The CERN of
laser research"